America's Favorite Artisanal Pretzels Made in NYC
"...the very best soft pretzels in the United States."
- Martha Stewart, Martha Stewart Living 2016
"Ms. Kulchinsky's [sigmund's pretzels] - where the pretzels are yeasty, blistered and fresh - is one of a few places where New Yorkers can now buy a real soft pretzel, mahogany brown on the outside, with plenty of loft and pull. Flavor and perfume come from a traditional baking method, not from a bath of melted butter."
-Julia Moskin, New York Times 2011

How We Do It? Traditional German Method, Big NYC Flavors, Same Day Shipment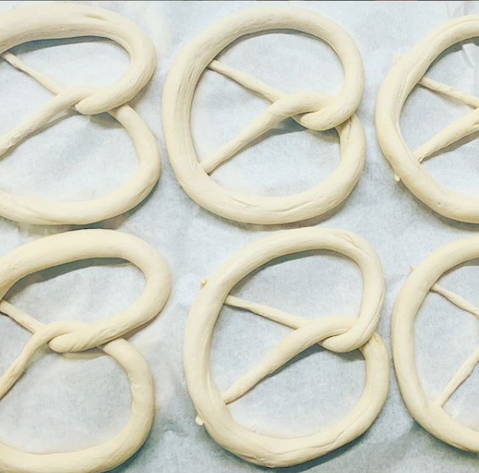 We start with cold fermentation. Flour, water, olive oil, salt, sugar, and yeast are gently mixed and the dough is fermented in the fridge for 24 - 48 hours waiting to turn into moist and flavorful sourdough. The pretzels are then hand-rolled and dipped in a sodium hydroxide - a traditional German method - and baked.
We add big NYC flavors. Before baking, pretzels are topped with cheeses, spices, and herbs with flavors inspired by simple and fancy-schmancy foods all New Yorkers love. Everything bagel, NYC pizza slice, garlic knots, french bread, subway churros, anything with truffle.
Baked in the morning, shipped same day in the afternoon. Freshly baked pretzels are quickly cooled down and packed to be shipped same day with UPS to our local and nationwide customers. Long fermentation (sourdough) keeps pretzels soft and fresh for days allowing us to ship without freezing, bulky packaging and freezer packs.

How We Started + Sigmund's post 2020
Sigmund's Pretzels was founded in 2009 by chef and owner Lina Kulchinsky. Lina was born in Moscow and moved to NYC in 2001. Before opening Sigmund's , Lina attended the Institute of Culinary Education and worked in the kitchens of NYC's fine dining restaurants like Jean-Georges and Bouley. Inspired by great NYC bakeries and New York's love affair with soft pretzels Lina set out to bring back soft, chewy, flavorful pretzels with big flavors worthy of the Big Apple.
Lina lives in Brooklyn, a 10 minutes walk from the bakery with her husband, 2 kids, and a Boston terrier, Pepe.
Sigmund's Pretzels had been a favorite snack of New Yorkers for years and starting 2020 we are happy to be able to ship our full line of pretzels to pretzel lovers everywhere in the country.